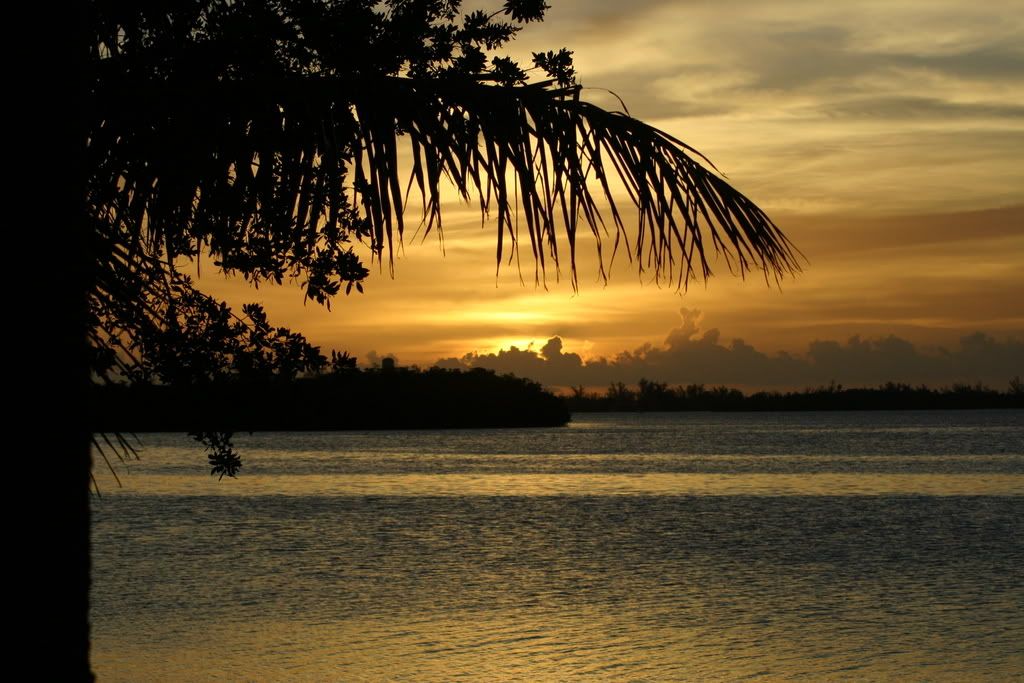 I went to Key West, Florida with the fiancé and his parents on July 4th to the 14th. We were there for eleven days, but it's a day and a half drive down and the same coming back. That's right, we drove. I was a little anxious about that, I mean, being stuck a sedan with all your luggage for around 13 hours a day with your fiancé and his family… I love his parents, but come on. That is a recipe for disaster.
Luckily, I was wrong. We all got along fine and I got to hear some truly amusing stories. It was definitely cramped, though, with the fiancé and me in the backseat with the cooler and snacks. On the ride down, I spent a lot of time with my head resting on his lap and watching the clouds pass by. He spent all his time switching between reading I Am Legend and playing Final Fantasy Tactics A2. It was my first time going South, so it was interesting to watch the changes.
The biggest change was when we actually got to Florida and I learned that palm trees are mostly cosmetic. They don't actually grow in those places, the tourism industry plants them for people like me. Well, I was satisfied, so thanks, Florida Tourism Association! Florida is very flat, as my father told me it was, and generally uninteresting once I was done marveling at the really cool stucco houses.
When we arrived at the beginning of the Keys, that was when I was stunned. Long, spanning bridges; tiny isles; billion dollar mansions tucked behind gates; old, weather worn buildings, and water, everywhere. You are literally at sea level and it is quite amazing. The Keys are very long, though, and by the time we managed to make it to Key West, I was anxious to explore. Unfortunately, the coupling of salt air and the searing heat would make physically exploring very difficult for me…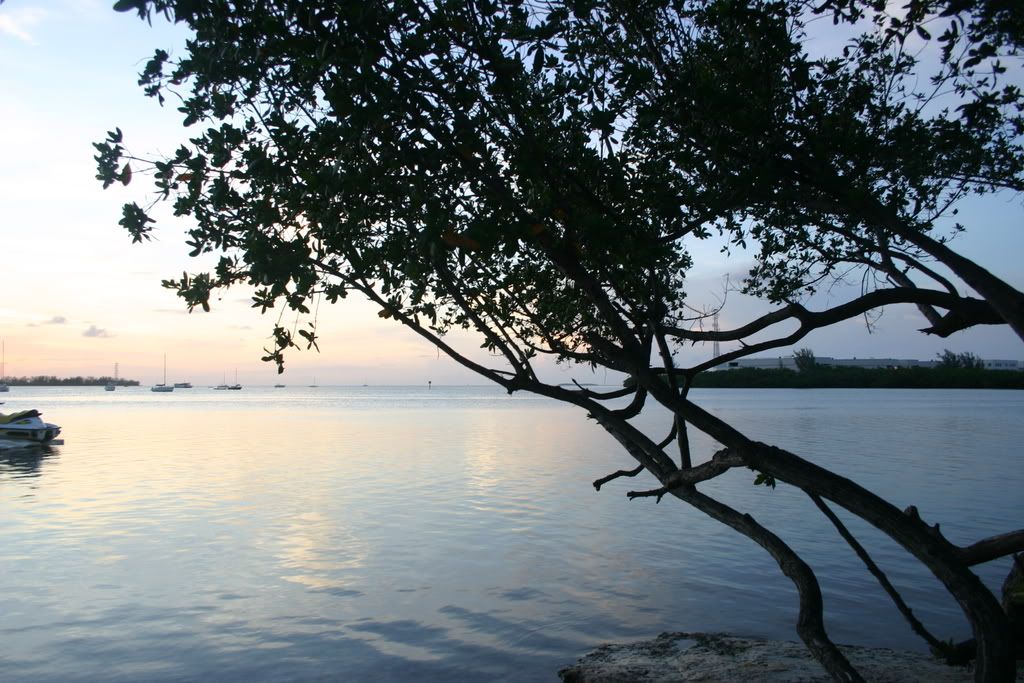 My soon-to-be in-laws own two condos in Key West. A really, really nice one at the Hyatt with a perfect view of a small bay cluttered with boats and another, smaller one just down the road. My mother-in-law's sister and husband came down with us, so they stayed in the smaller one. The first day, we stayed in a hotel, since the condo check out is typically a Sunday. It's amazing how expensive rooms were. We had a room with two beds that was relatively small and it was $600 dollars. Wow.
On Sunday morning we left before check out and headed off to the condo. It was amazing. It was like an apartment with an open view of the sea. I loved waking up early and going out onto the closed balcony to listen to the waves and the wind rustling the nearby palm trees. I would sit there and read for as long as it took the fiancé to wake up. Out of everything I experienced on the visit, the condo was my absolute favorite.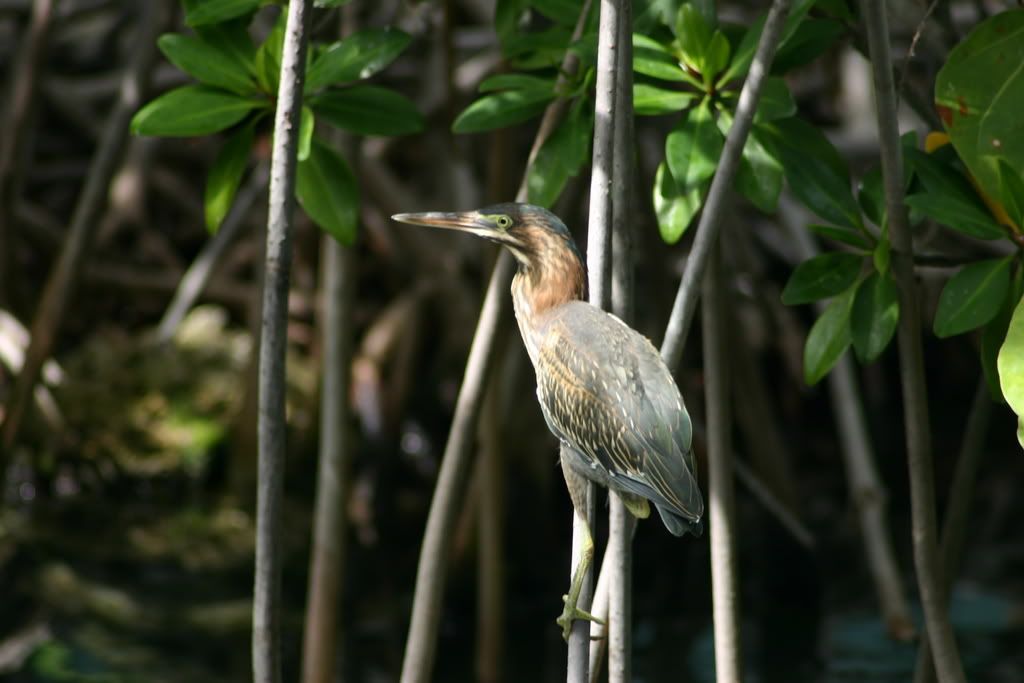 Second, of course, would be the wildlife and just the flora in general. It's such a picture-esque place and I'm definitely glad I convinced my grandpa to let me borrow his Canon Rebel. It's a few years old, but it did its job brilliantly. The fiancé joked that I spent more time taking pictures than I did anything else, and it's true, I did. But there were just so many beautiful things.
I had so much fun at the aquarium, too. They had fish, manta rays, lobsters, everything, even sharks! Big ones, too. You did not want to fall in that tank. They also had an Atlantic exhibit showing off the wildlife and flora of the Atlantic side of Key West. The aquarium was completely open air and there was this very large iguana that hung out there, too. He wasn't part of the aquarium, just a visitor.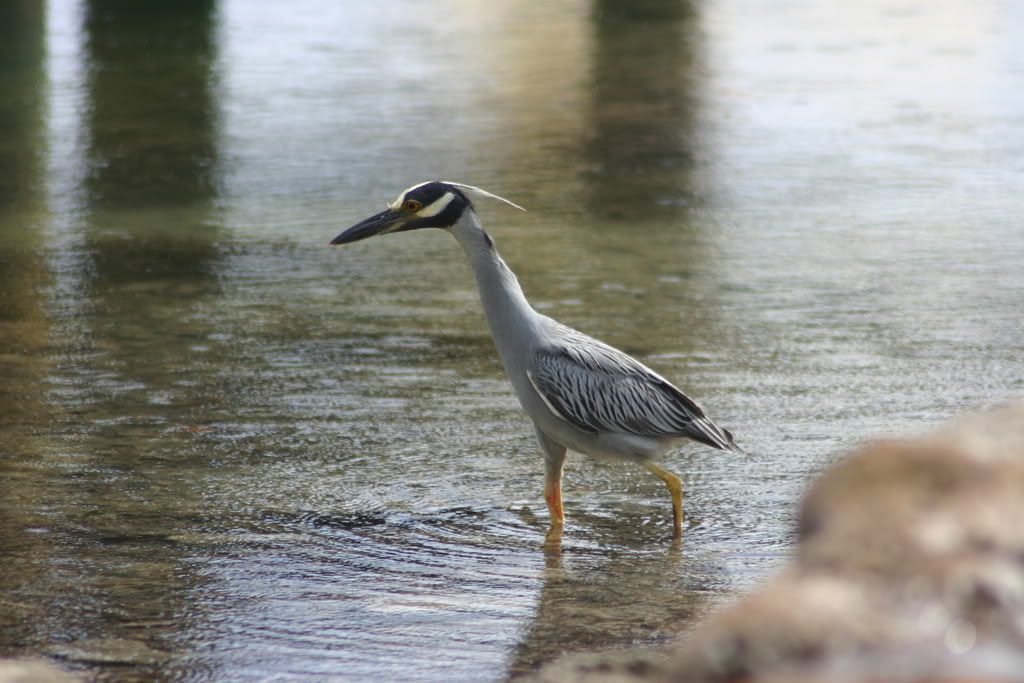 Of course, you didn't need to go to an aquarium to see wildlife. We had several visitors on the beach right below out condo. You can bet I spent a great deal stalking them, doing my best impression of a nature photographer. I'm sure the other condo tenants became used to seeing me running around with this huge camera and lens bag. The zoom lens was the best, because it allowed for the most detail and focus. So great was the precision that you can count individual feathers. Granted, photobucket killed the quality and original sizing on my pictures.
Nevertheless, I spent a great deal of time hauling around my big camera and looking generally strange. You'd think a laid back place like Key West would see more people "like me". When I say that, I mean my hair. I am naturally blonde, but I have it bleached and then apply blue to the bottom layer of my hair, so it peeks out and bleeds out onto the top layers. I got more comments and odd looks down there than I usually do anywhere else. Maybe it was that plus my gigantic camera.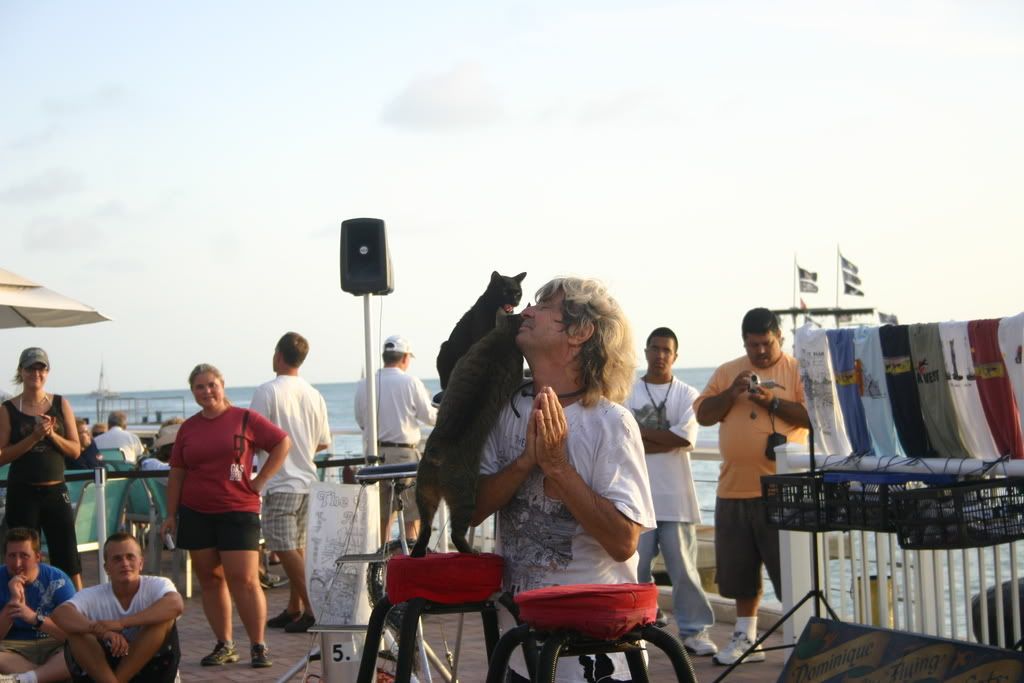 There were so many places to go and see that a week didn't seem nearly long enough. Granted, we did spend some lazy days in the condo, but we did a fair bit of exploring, too. The fiancé and I went on a glass-bottom-boat tour which was amazing. I love the feel of being on a boat and that coupled with the experience of seeing a coral reef was fantastic.
We also went to the Sunset Festival that happens everyday at sunset. Street vendors and performers gather on the pier and it's like a big carnival. I mostly wanted to see the Cat Man. He trains common, household cats that roam free on the islands and then has them perform. It was a very cute show. He scared me in the beginning, though. He has a very… eccentric personality and likes to engage the audience. He must have saw my gigantic camera, because he came forth, got very close to me, and looked into the lense, "hello!"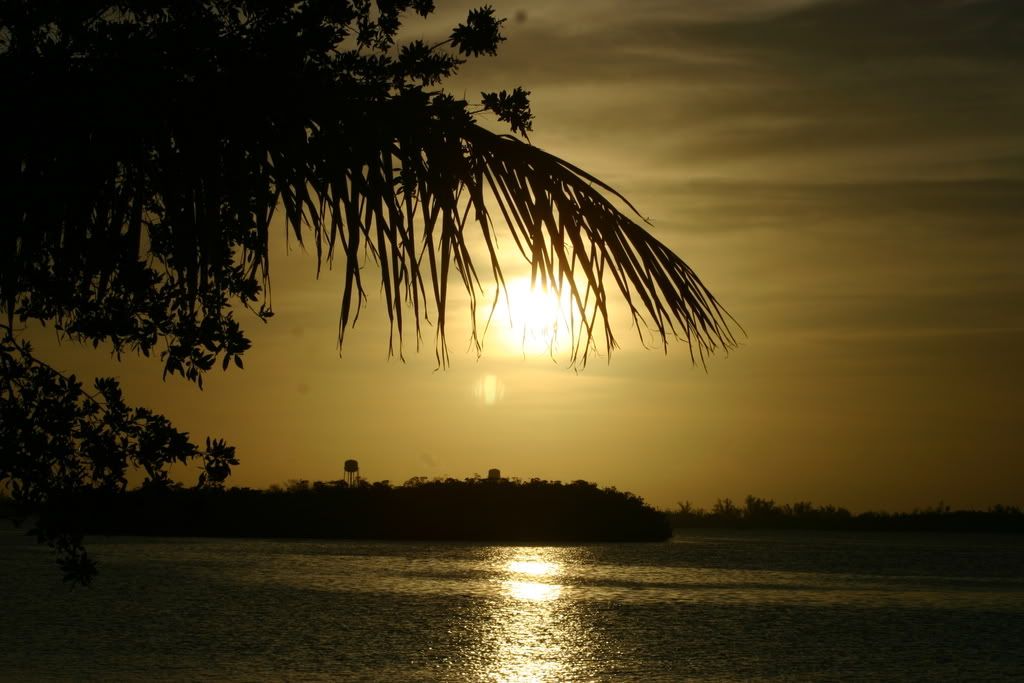 Sunset was my favorite time. I have so many pictures of the sun setting in various ways. My father-in-law is quite keen on picture taking and would often go out on the wave runner to get a perfect shot. He uses the photos for his business, so his zeal is understandable. He tried to get me to go, too, but I had 1,000 dollar camera that wasn't mine. I wasn't willing to risk it.
I did enjoy the wave runners, though. The ocean is so shallow, you can see down in it as if the water were glass. I never did get to see a manta ray, but it was still pretty. My favorite part about the wave runners was when my father-in-law took the fiancé and me around the entire island of Key West. They have two wave runners, so he rode one with the fiancé and me following in the other. It was great, I wish I could have had my camera, but the Atlantic side is infamously choppy.
I was sad when we had to leave. I still had so many things I wanted to get pictures of, like the buildings on Duval Street. It was so hard because it was always crowded and I wanted to achieve something that was more than just a picture for memory. I also didn't want to give up our room in the condo where I had my own closet and drawers! Of course, I can't forget about the king sized bed, either. Heaven.
I really hope I get to go next year. I'll be a bit more brazen… and hopefully, have my own camera. Of course, it is all weather permitting. My first real vacation since I was seven, and definitely the farthest from home I've ever been… I'll definitely remember it.