I'm sick of talking about dramatic and annoying things.  So, instead, I'm going to talk about cats.  My own lovable ball of fur is currently at home with my crazy ass mother.  Trust me.  I am a ball of nerves.  I want my cat.  Now.  But, unfortunately, it cannot be, because my in-laws don't believe in declawing and their cat enjoys using hers.  She and Nikita would not get along, at all.
Their neighbor here split up from his girlfriend, who had a daughter.  This was awhile back, maybe half a year ago?  Anyway, she got the little girl a cat and it ended up remaining here due to the whole apartment situation.  The guy is never home and the cat is mostly left to wander.  Recently, it's begun coming to the door and wanting let in.  So we have.  Now my father-in-law wants to keep it.  He's a very cute cat… but very skittish.  It is obvious he hasn't had much human interaction.
He's not very fond of the camera.
My fiancé, the self-proclaimed cat whisperer that he is, took right to trying to calm him down.  Let it be known the cat follows him as assiduously as a knight his king.  I don't even blink an eye.  After working a miracle on my own crazy cat, Nikita, and getting her to not only love him nearly as much as she does me, but also deign to sit on his lap at every given occasion, well… his prowess cannot be questioned!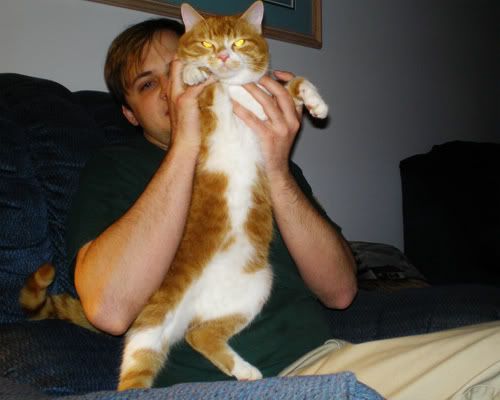 Unfortunately, aforementioned kitty is without his shots and all the other necessaries.  This is the major holding back point for my mother-in-law… she doesn't want to spend even more money on a stray animal.  All the animals they've had were stray animals they took in.  Trust me, they've had a ton of animals.  So we'll see what happens.  I somehow doubt he'll be going anywhere anytime soon.
He's also woefully nameless.  I'd love to give him a name–naming animals is so much fun!  And, well, my in-laws don't really have a penchant for coming up with good names.  Spooky, Snoopy, etc.  Seriously, guys… but my names tend to be pretentious.  I mostly name mine after presidents, literary figures, and mythological creatures.  Well, except Nikita.  I kind of named her after a formerly famous spy series called La Femme Nikita.  Shush!  Peta Wilson is hot stuff.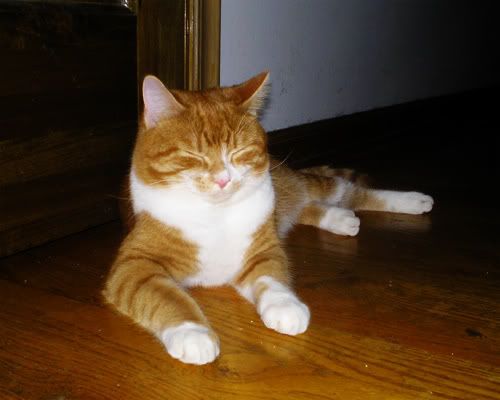 Right now, we're at a kitty impasse.  He's trying to get along with Spooky, but Spooky is having none of it.  She wants him gone.  They are laying several feet apart, just staring.  Every now and again, he'll move or scoot closer to her, making cute little raccoon-like noises and then she'll clock him and he'll run off.
Really need to look into buying a card for our camera, too.  Stupid Olympus cameras!  You can't just use any regular SD card… which would figure, since my fiancé has insisted on buying a ton of them.  It sucks only being able to take like, ten pictures on what this camera considers "high quality".