Whew.  It seems almost insane to try and sum everything up into some kind of neat little post.  I had every intention of trying to blog throughout the vacation, but I really didn't even think of it.  We were really busy with the wedding stuff and then showing my dad and family around, as well as seeing some of the sights ourselves and just enjoying the break.  We won't get a 'real' honeymoon, so that's as close as it got, haha.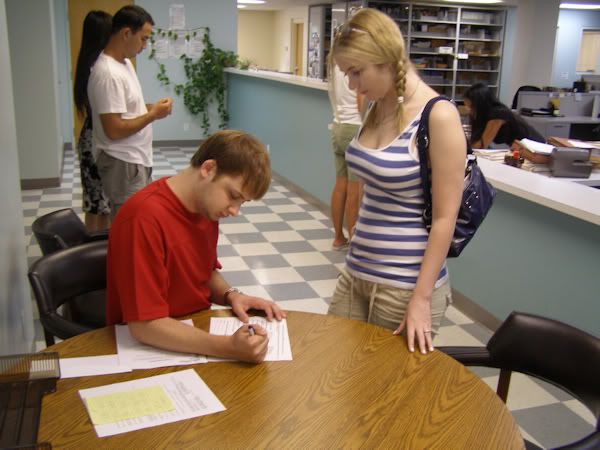 The wedding itself was pretty amazing, even if everything that happened beforehand was extremely hectic and taxing.  We arrived at Key West late Sunday afternoon and spent most of the day just trying to unwind from the lengthy car trip.  The following day, Monday the sixth, was the day of the ceremony.  We had until six o'clock to get everything ready.  We got our marriage license pretty early, around ten am.  We ran back real quick, and then around noon, it was time to go pick up my dad and his family (his dad, stepmom, stepgrandma, and his sister) up from the ferry dock.  By the time we got everyone settled, it was time to run and try to get flowers, last-minute.  My mother-in-law and I nearly pulled our hair out trying to find the place, but once we did, we ended up with a great little boquet of white orchids and seagrass.  It was simple and perfect.
We boarded the ferry to take us to Sunset Key around 7:15 so we'd arrive early enough to snap some photos and whatnot beforehand.  Racing with the sunset isn't fun business.  We had about six or so people with cameras, all snapping photos at once.  We've got quite the wide assortment of angles and everything… which is nice, but not so much when we're all looking at a different camera!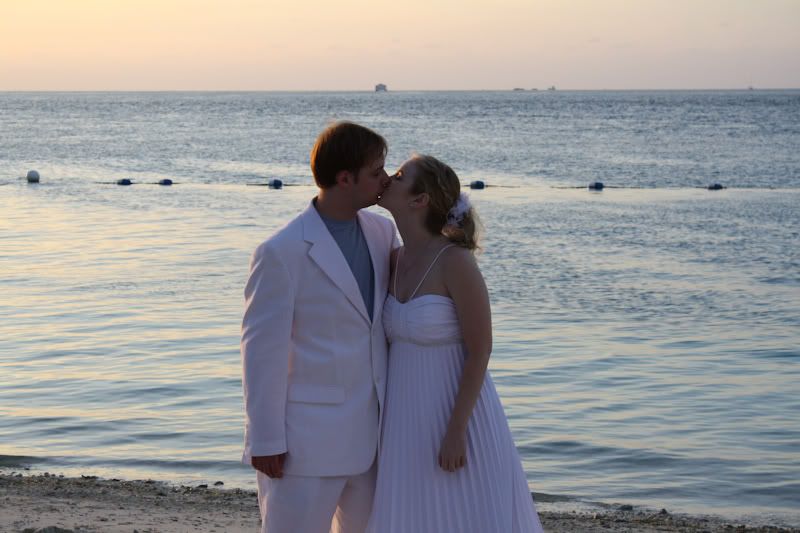 We got a little panicky waiting for the notary to arrive… the sun was setting fast and I was worried we were going to miss our opportunity.  He finally arrived and everything got started.  Of course, I ended up crying through most of it, because I'm a big baby.  I wrote our vows, last minute, while I was sick and tired.  I hadn't really thought about them.  Well, apparently my subconcious had, because I was a blubbering mess.  We've been through a lot, in our friendship and our relationship.  The entire moment, it was just a culmination of so much work and not to sound cliche, but love, too.
Of course, everyone has ten million photos documenting my sobbing mess.  Fantastic.  Thanks, family.  Love you, too.  Chris was trying not to cry the entire time, because when I cry?  So does he.  So it is kind of funny to look back at the pictures and see his uber concentration face, trying so hard to keep it together!  My dad was crying, too.  It's a domino effect… I cry, the males close to me cry.  I'm not big on crying, thank goodness!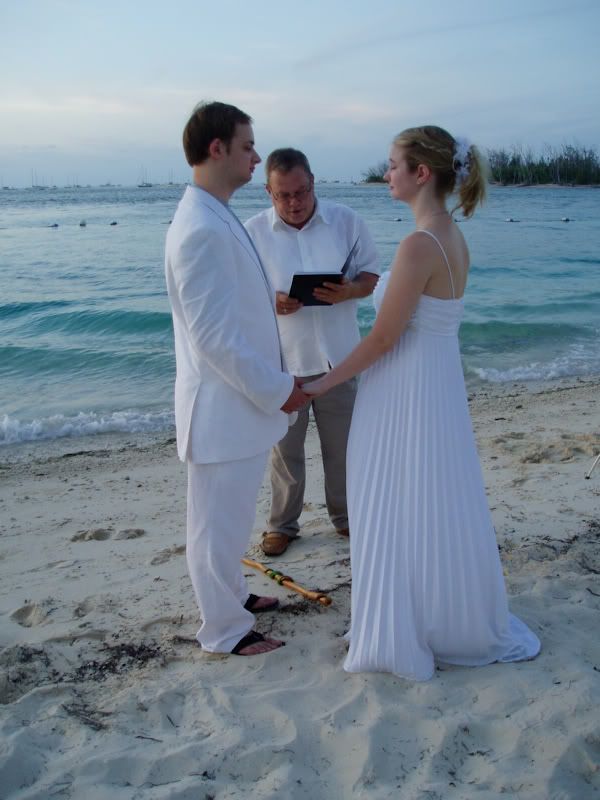 I should probably also mention we sat down and had 'drinks' before the ceremony, too, since we arrived so early.  The woman over the place was in a panic, no one had told her there was a wedding until the last minute… so she was falling all over herself trying to make us happy.  I've been lower-middle class most of my life, so being treated like a rich high roller was pretty fun!  I'm not big on alcohol, but Chris and I both had drinks.  I only drank half of mine, but I swear they made it stronger than usual.  It was just a strawberry daquiri!  Needless to say, I had some issues not falling in the sand, which was pretty hilarious.  I'm also blaming my crying on that.  Yep.
After the ceremony, we all went back to the beachfront restaurant and lovely table where we had drinks to have dinner.  My father-in-law arranged everything and it was beyond anything Chris or I could have imagined.  It was fantastic.  I will be forever grateful, truly.  We also had a ton of party crashers.  People staying on the island stopped and watched while sitting in beach chairs.  We had a party boat filled with drunk people pass by right after we exchanged our vows and the DJ jumped on the loudspeaker to congratulate us, followed by a bunch of drunken woo's.  We had a few boat watchers, actually.  Which is just too funny!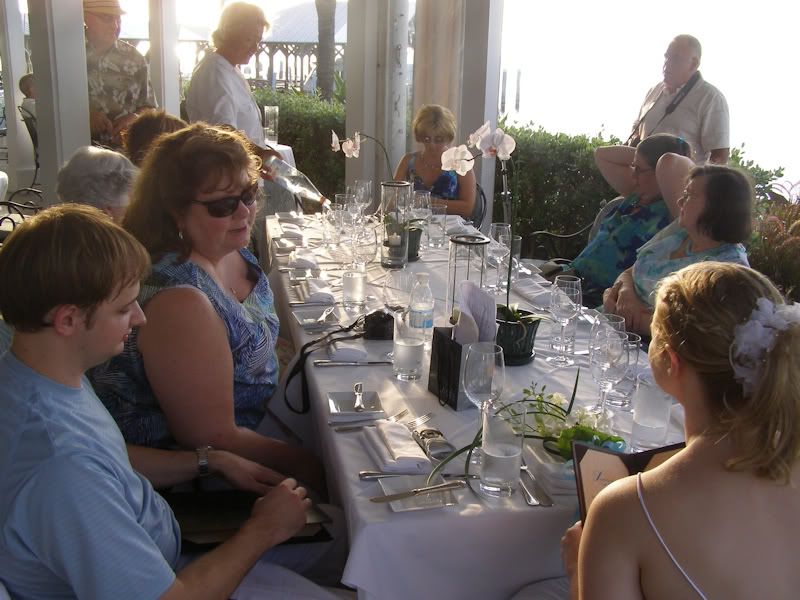 We were definitely all exhausted by the time everything was said and done!  We didn't get off Sunset Key until around eleven pm.  We were the last ones to leave the restaurant, ha!  Against our protests, my in-laws decided to get us a room separate from everyone to keep up appearances.  So Chris and I stayed at the Double Tree Resort while everyone else went back to their condos and respective rooms.  For just wanting a simple and fast wedding, I'm extremely pleased, even if it was so much more and bigger than I could have ever anticipated.  I'm just sad my true grandparents couldn't be there.  I know Chris feels the same.  Both sets of our maternal grandparents are the ones who are a big deal for us and neither set could make it due to their health.
The rest of the week was a lot more low-key.  The next morning we met up with my dad's side of the family and went on a tour around the island, which was a lot of fun.  It was extremely hot, though, apparently the hottest day of the year down there.  It was only fitting, since we got lucky and were married during the full moon… which is pretty cool!  We saw all kinds of sights through Tuesday and Thursday, including the Butterfly place where everything flies free and the Hemingway house filled with cats.  Chris has been going down there for over  decade, but everything is still new and exciting for me!  My dad definitely had a blast.  I hated to see him and his family leave late Wednesday.
I love my dad.  I was so glad he was there.
The rest of the vacation was spent just relaxing and enjoying everything we could.  We went on a Ghost Tour, but that was extremely disappointing.  We spent a day at the Dolphin Research Center, though, and both Chris and I got to play with dolphins!  It was awesome.  I love dolphins.  Next time, I want to actually swim with one.  I could spend days there.  It was so much fun.
We spent a lot of money, though.  A little more than we had anticipated.  Chris has a lot saved up, but still.  I mean, it was a one-time thing and it was our only chance to really have somewhat of a 'honeymoon'… but I'm a real stickler about money and so is Chris.  We've got a lot coming up in the next few months.  We got a lot of money gifts from family so that helps at least.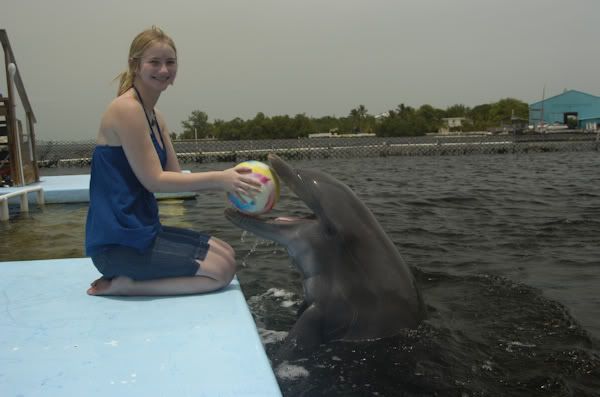 Chris and I did a lot of stuff on our own and it was definitely awesome to have a condo all to ourself.  There's a ton of stuff I'm not mentioning, but this is a long post and I mostly just wanted to get as much typed as I could while it was still fresh in my mind.  There's tons of wedding stuff I left out, but I doubt I'll forget any of that anytime soon!  It was a great time, we hated to leave.  I'm still not used to the whole 'married' thing.  I can't imagine changing my name, that's going to be weird and complicated.
It will also mean I'm no longer a resident of Pennsylvania.  Losing my name and my state?  Big stuff.
But definitely worth it.