I've always been fascinated with photography.  It is one of my passions, right up there with writing.  When it comes to a career, I would prefer it over almost anything else.  The freedom to traverse the globe and snap photos would appeal to anyone, I'm sure, but for me… I'm just obsessed with history, with culture, and with nature in general.  To capture it in a way where the photo tells its own story, without the addition to words?  That's mastery.  I'd love to be a part of something like that, to be able to create words with pictures, to spur emotions, to bring back a time and memories long forgotten.
Needless to say, the first thing on my "unnecessarily expensive things to buy when able" is a DSLR camera.  I favor the canon line over Nikon, it's just personal preference, both are very amazing companies that put out some amazing DSLR cameras.
Key West brings out the photographer within.  I love just wandering the keys and taking pictures.  If I had a better camera, I'd be a bit more risky with my shots.  I got some amazing ones last year, with my grandfather's Canon Rebel EOS.  I'm one of those people who will stop a stranger on the street and ask if I can take a photo of them.

Taken from a moving tour train; a whitewashed stone church.
It's become a combined joy for my husband and I.  We love running around and just taking pictures.  We take the camera with us everywhere now.  It has several scratches from being carried around in my purse or his pocket.  Key West is what really brought it all to a steady boil.  We spent as much time enjoying the island as we did taking pictures of it!

The skyline in Key West is amazing.  This was taken from the car.
On the way home, I started challenging myself with more difficult pictures.  Husband would point out things, like airplanes landing in Miami or taking off.  Distant, faint dots on the horizon, but with our camera?  They took shape and form.  I managed to not only zoom in enough to read the side of the airplane, but also got it stabilized enough for it to not be blurry.  Go me!
Unfortunately, there seems to be a dead pixel in the camera already, sigh.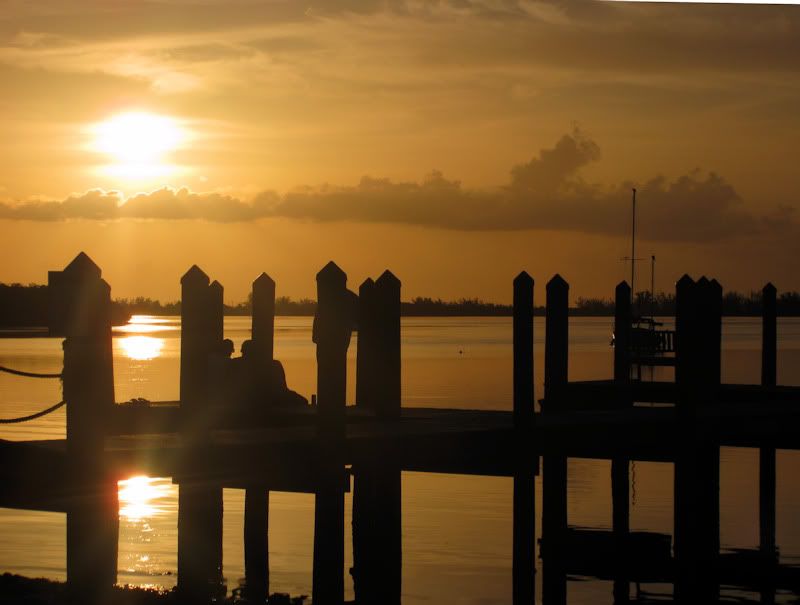 Sunset at the docks in front of our condos as viewed by two people on the docks.

Still, it's shaped up to be a pretty good camera.  Not comparative to a DSLR, but unfortunately, that isn't in the books.  Soon, though.  Very soon, I'm hoping.  It will be a one-time purchase, as they tend to last a good while.  My grandfather's is several years old and still amazing.  I bought him a separate flash for it as a Christmas present, which he loved!

Hemmingway house gardens.
How awesome would it be if we could all persue our dream jobs?  I could be traveling the world right now, taking pictures and getting paid for it.  Instead of being the sheltered person I am now, I could be worldly, outgoing, and happy.  Unfortunately, its not to be.  Still, it's fun to dream, isn't it?